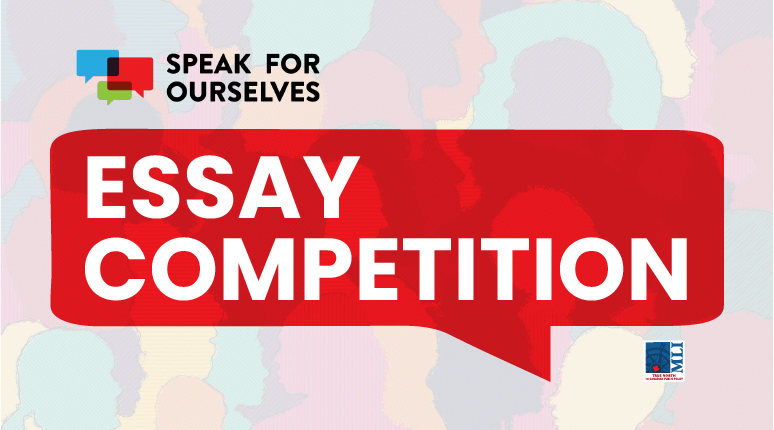 OTTAWA, ON (September 27, 2021): For Canadian students and young people who are frustrated that they don't see themselves represented in the national discussion on issues of race, culture and politics, here is a great opportunity to finally be heard.
In Canada, the dominant mainstream media narrative seems to offer a single, simplistic, politically-biased view to represent all people of colour on the most important political and cultural issues. But true diversity includes diversity of thought, and in this respect, minority communities are as diverse as any other communities in our country.
To help Canadian youth of different backgrounds create a national discussion that reflects the true diversity of opinions that we know is out there, the Macdonald-Laurier Institute is launching the first ever Speak For Ourselves Essay Competition.
This competition will invite essays from Canadian students that push back against the prevailing narratives that are imposed upon or seek to marginalize diverse voices. The contest winner will receive a $1500 prize, mentorship support, and will have their essay featured in MLI's Inside Policy magazine. As part of this contest, MLI will also host a writing workshop, mentorship roundtables, and Instagram Live discussions for young Canadians.
"A diversity of opinions from individuals with different backgrounds represents a strong measure of a successful democracy," said MLI Senior Fellow Jamil Jivani, who also recorded a video message announcing the contest.  "Young Canadians deserve to be heard, especially those whose opinions are often left out of public debate."
This essay competition is part of MLI's Speak for Ourselves project, which seeks to amplify the views of people of colour whose dissent from mainstream narratives might leave them without a platform for expressing their opinions. Launched in 2020, Speak for Ourselves embodies the principle that all people are unique and entitled to think and speak for themselves without having ideas imposed onto them.
According to MLI Munk Senior Fellow Shuvaloy Majumdar, "supporting true diversity and inclusion is much more important than succumbing to the narrow 'culture war' debate being perpetuated in much of society."
The contest is now open, and essays can be submitted between now and November 29th at 11:59pm ET. Eligible participation is open to Canadian students aged 25 and younger. Essays can be anywhere between 750 and 1000 words in length.
As Jivani notes, successful submissions will be those that provide "a unique and compelling argument or commentary on issues of race, racism, and diversity – the kind of argument you might not read in the opinion sectors of Canada's major papers or in a university classroom."
To learn more about the essay contest, a full list of rules, requirements, and key information can be found here.
Commenting on the essay competition, MLI Senior Fellow Kaveh Shahrooz says that it "presents an opportunity to reward a bright and talented young Canadian whose views and opinions deserve their time in the spotlight."
In addition to the essay competition, MLI will be hosting a digital writers' workshop to discuss ideas and best practices for prospective participants. To register for the workshop, click here.
Furthermore, media, educational institutions, and prospective participants are invited to contact:
Brett Byers
Communications and Digital Media Manager
613-482-8327 x105
brett.byers@macdonaldlaurier.ca